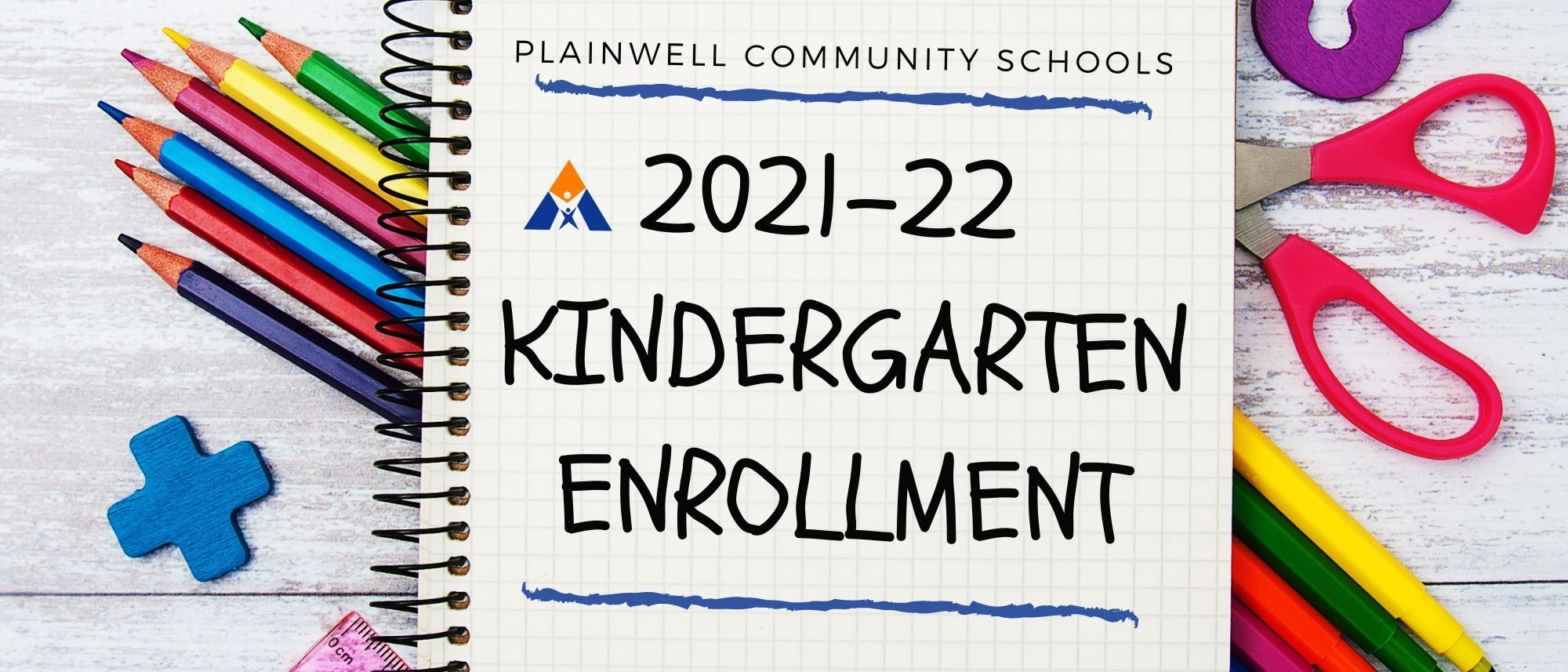 If you have a child, who turned 5 years old before September 1, 2021, please contact one of the elementary schools listed below for the 2021-2022 school year.
Starr Elementary (269) 685-5835

Gilkey Elementary (269) 685-2424

Cooper Elementary (269) 349-2674
How to Enroll Your Child in PCS
KINDERGARTEN STUDENTS ENROLLING IN THE 2021-22 SCHOOL YEAR
You will be enrolling your student online. You will want to have the following documents available to upload:
Birth Certificate (you will also be asked to show the birth certificate with the raised seal in person)

Proof of Residency in the Plainwell Community Schools District (utility Bill, tax bill or current driver's license with district address.

Immunization Record

Vision Screening (dated within the last 12 months)

Court Orders or Placement Papers (if applicable)

If you are outside of the PCS District you will need to fill out School of Choice forms.
Forms for the 2021-22 school year will be available in March 2021.
Children who will be five years old by September 1 may be enrolled in Kindergarten. The law allows parents of students who will turn five AFTER September 1 but before December 1 to enroll their child in Kindergarten. lf your child's birthdate falls between September 1 and December 1 and you wish to enroll him/or her in Kindergarten you may complete the Waiver Form requesting early entry. A parent considering early entry for their child is urged to consult with an elementary principal as to the readiness of their child and advisability of entering Kindergarten earlier than other children their age.
Ready to Begin Enrollment?
We are so excited for your student to join PCS!
For parents who DO NOT have students already enrolled in PCS:
For parents who DO have students already enrolled at PCS, please enter the email address you have on file with the school:
As a part of the Kindergarten enrollment process there are two screenings depending on the age of your child you may need to participate in both screenings. Please choose a school or time that is convenient for you. Testing at a specific school does not mean that your child will be attending that school.
The first screening is done in late April and is designed for those students who will be 5 years old AFTER April 1st. This is a readiness screening and it helps us to evaluate the readiness of your child. Please click here to book a date and time for the Kindergarten Readiness Screening.
Additionally, ALL students entering Kindergarten will be screened in August. This screening is an addition to the Readiness Screening. If a child will be 5 years old after April 1st then they will be asked to participate in both screenings. Any child born prior to April 1 will participate in this screening only.